If your emails are going unnoticed, it could be attributed to several common errors. But with a little effort, you can fix each of these to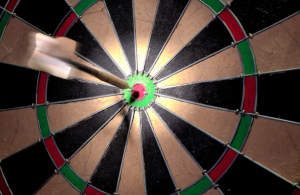 increase your results!
1.) Targeting Mistakes
One reason your emails might be overlooked is due to incorrect targeting. This could result from outdated contact information or the fact that you're reaching out to individuals who aren't the key decision-makers in the field of Corporate Training and HR that you need for success.
Outdated In-house Data:
If you're solely marketing to your in-house database, chances are it's filled with inaccurate information, including both valuable and worthless contacts. It's challenging to differentiate between the two. Perhaps it's time to refresh your database with new leads.
However, not all marketing "lists" are created equally. If you're marketing and selling within the Training and/or HR sector, be aware that most data sources won't provide you with what you require.
Untargeted Purchased Data:
If you're relying on general data sources that aren't tailored to your target niche, you're likely not achieving the desired results. This situation is common. When investing in a marketing list, ensure the provider can answer these questions to your satisfaction:
How is the data compiled, and who is responsible for it?
How frequently is the data updated?
Does the data include the contact's actual area of responsibility, not just their job title?
Are there any usage restrictions or per-user fees for accessing the data?
The Solution:
Invest in a high-quality, precisely targeted database containing the contact information of key decision-makers in the Corporate Training and HR markets.
Remember, Corporate Training & HR are MTG's exclusive focus, and this makes all the difference. Additionally, our database is meticulously curated by industry experts.
Mentor Tech Group's database is truly unique, providing marketing intelligence data with the crucial information you need to succeed!
Here's what you get with your investment in Mentor Tech Group's data:
100% human-verified data, meticulously maintained by a team of Market Intelligence Consultants to ensure data accuracy.
Confirmed Decision-Maker contacts in your target industries: Corporate Training, HR, Talent Management, and e-Learning.
Sorted by Job Function to help you connect with the people who make decisions.
Access to industry best practices to learn what works for others in your field.
Four-month FREE data updates to keep up with industry changes.
2.) Value-Added Content
Sending "value-added content" to your list might sound repetitive, but it's crucial. This is the one area of email marketing where B2B companies often falter. We've witnessed numerous email campaigns that employ aggressive sales tactics or focus solely on self-promotion, which can be a major turnoff for recipients.
As we often advise clients, it's better to send no emails than to send low-quality, annoying, or low-value emails because people will simply unsubscribe, and you'll lose the chance to contact them again.
Here's how to get it right:
Relationship selling is paramount in B2B sales, and prospects need time to build trust in your company and services. How do you achieve that? By delivering value with every interaction. Create regular email marketing campaigns that offer content that benefits your prospects. What do we mean by "value-added content"?
It provides answers, insights, information, or solutions that help your prospects immediately.
It's not an advertisement or solicitation to promote your company's services.
It should be 90% informative and no more than 10% promotional.
In summary, when executed correctly, email marketing can still yield a substantial return on investment, as evidenced by the following:
"In the first year of email marketing to the MTG database, we generated over $175K in sales directly attributed to our investment in a custom-built Mentor Tech Group database. Furthermore, many of these clients continue to do business with us year after year." – President, B2B Team Building Company
Email marketing STILL WORKS when it's done right.
3.) Weak Subject Lines
After putting in the effort to secure a high-quality, targeted marketing database and creating valuable content, don't undermine your efforts with a lackluster subject line. If the subject line doesn't offer value and pique recipients' interest immediately, your message may end up in the trash. Instead, consider the following:
Use a captivating subject line that entices people to open the email (tools like www.SubjectLine.com can assist).
Capture people's interest by thinking from the recipient's perspective. What email would you open? What would you delete? What might prompt you to unsubscribe? Instead of being bothersome, aim to provide helpful, insightful, or educational tips and use an engaging subject line to convey this.
If you need to expand your list of targets, Mentor Tech Group has exactly what you need. MTG has hand-built a list of high-quality Corporate Training & HR decision-maker leads for your sales and marketing outreach efforts.
So if you need more targeted decision-maker leads, please contact us today at 651-457-8600, Ext. 1.
We have exactly what you need to succeed!