I was recently reminded that marketers could use a refresher about email marketing "do's and don'ts." We all know that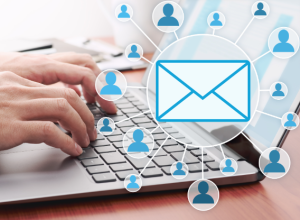 when DONE CORRECTLY, email marketing is a proven and highly effective way to:
Generate leads

Boost sales

Build brand loyalty

Increase website traffic

Nurture leads over time
So, let's review the top 10 email marketing "Do's" to help you achieve success in your email campaigns. (Then, in our next email, we will review the top 10 email marketing "Don'ts.")
10 Email Marketing "Do's" to Maximize Success
Follow all CAN-SPAM Laws.

Within your email content, be sure to include:

Your physical address

Email address

Phone number

Provide the ability for the recipient to easily unsubscribe from your email campaigns

Develop an Email Marketing Strategy

Determine goals/objectives.

Identify hot topics of interest to your target industry (see #5 for more ideas).

Create an email marketing schedule and stick to it. Remember: Consistency is the key.

Sending an email once a month is a great start; twice a month is even better.

Be sure your email marketing strategy is linked to your sales strategy and goals.

Use a Current, High-Quality List
Use an Email Marketing System

Use an email marketing system (e.g. MailChimp), designed to track all email activity, including opens, clicks, and unsubscribes.

Leverage email marketing automation tools to improve marketing efficiency.

Create workflows to automatically nurture interested leads using "hot list" triggers – such as the number of times a contact opens your emails or the number of times they click on certain links.

Create Value-Added Content (versus SALES Content)

Develop (free) educational, thought-leadership content the reader will find helpful in their business.

Write about industry trending topics.

Think from the recipient's perspective:

What interests your readers?

What kind of content would YOU OPEN?

On the flip side: What makes you delete an email? What makes you unsubscribe?

Create a Compelling Subject Line

This is critical! Create a powerful, interesting subject line that builds curiosity, causing the recipient to ACT.

Keep it short and sweet for ease of mobile reading: Aim for simple/concise text.

Use a number in your subject line. (e.g. "Top 5 Ways to Improve Email Marketing Results") Numbered lists entice people to open emails.

Avoid using SPAM-trigger words or all caps in your subject line. (Do not use the following words: Free, offer, trial, clearance, sale, buy, order, click, call, deal, guarantee, compare, sign up, urgent, open, opt-in, etc.)

Use

www.subjectline.com

as an added layer to "score" sample subject lines.

Use an "Email Teaser"

Do not give away the whole article in your email campaign. Provide just enough information, an "email teaser," so readers will be enticed to "Click to read more."

Include trackable links where people must "Click to read the full article." (This is one way to know who is actually engaging with your content!)

Make the message personalized and relevant – Use the person's first name.

Keep the content short and EASY to read – Use bullets and bolded text with multiple places to "click to read" the article.

Include a SINGLE, CLEAR call to action. (e.g. "Click here to read article." or "Click here to register for webinar.")

Use a simple email template design without too many graphics and without videos which can get caught in SPAM filters.

Test Messages

Test your email messages on various popular email systems to be sure your content looks good across a variety of platforms.

Measure, Analyze, Tweak

Use trackable links to track and measure opens, clicks, and unsubscribes to see what works well and what doesn't.

Continue to test, analyze results and tweak your campaigns based on results.

Try different topics, subject lines, frequency, email templates, marketing lists, etc.

Always seek to improve results.

Make it Mobile Friendly

More than 50% of email is now opened on a mobile device.

Be sure your email design fits the screen.

Keep the word length short and manageable.

Ensure the loading time doesn't take forever.

Keep up with changes in technology to ensure optimal results.
Remember, Mentor Tech Group is the only company specialized in hand-building a market intelligence database for companies selling and marketing to decision-makers in e-learning, corporate training, talent management, and HR.
You can outsource to an expert in your business. Mentor Tech Group provides:
We're here to help you improve your results when selling and marketing to Corporate Training & HR – let's get started TODAY! To learn more, please contact us at (651) 457-8600 Extension 1.