Despite all the new marketing channels available for B2B marketers today, according to Hubspot and Litmus, email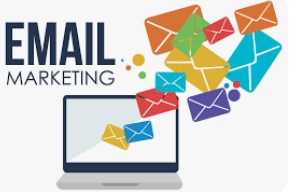 marketing still provides an impressive $36 return for every $1 spent!
So – what recommendations can you employ to achieve similar results? We have some updated information to help answer this question…
WHEN TO SEND
First, in B2B email marketing, Tuesdays and Thursdays have historically had the best open rates. However, the latest data shows a change in this pattern:
According to a 2022 report by Campaign Monitor, the highest open rates for B2B emails is on Mondays (at 22%), and the best time to send is between the hours of 10 AM to 12:00 PM local time. Note – always remember to consider the time zone(s) of your target audience when sending.
Interestingly, Tuesdays still show the highest click-through rate, so try sending campaigns on both days. Then analyze the open and click-through results to determine which may be best for your audience.
Continue to test and analyze your own email engagement results by audience segment to help inform the best day and time to send your campaigns.
TACTICS TO IMPROVE EMAIL OPEN RATES
Improve your email subject line – test the length, content, and tone (try www.subjectline.com to see how your subject lines rate and recommended ways to improve them)
Be sure your content provides real value to your audience – include content regarding market trends, insights, how-to-tips, best practices, etc.
Test email frequency/cadence to see if your audience responds better to weekly versus monthly emails (we generally recommend emailing your MTG database about once every other week to maintain frequency while reducing the "annoyance" factor)
Test and vary the sender name and email address to see what works best (i.e. "marketing@" verses from the CEO/President)
HOW TO IMPROVE CLICK-THROUGH RATES
Segment your database to send content to your targets that's more relevant to them
Improve calls-to-action, using better design and clarified content
Test out different subject lines – use a number to pique interest (e.g. 5 Tips to Improve Email Open Rates)
Test new email templates to refresh your look/feel
Try A/B testing to analyze what works
HOW TO QUICKLY FIND DECISION-MAKER CONTACTS in TRAINING & HR
We began this article by talking about the great ROI companies can achieve via email marketing. But did you know that when it comes to sourcing marketing list data, no company can match the quality and ROI potential of the Mentor Tech Group database?
…We realized a 10-fold return on investment in the first 90 days! – Managing Partner, Robert Gregory Partners (now part of Franklin Covey)
Here's what sets MTG's decision-maker database apart, making it a GREAT investment for your marketing team:
MTG is the only company specializing in Training and HR – providing you with more than 40,000 Corporate Training and HR decision-makers at America's top 5500+ companies.
100% human-verified data – Our database is hand-built and maintained by a team of Market Intelligence Consultants who speak with each contact in our database. Why is this important? This allows us to ensure accuracy and determine if the contact merits membership in the Mentor Tech Group database. 
Confirmed Decision-Maker contacts in your target industry: Corporate Training / HR / Talent Management / e-Learning
Sorted by Job Function – This is the contact's actual area of responsibility in the organization, not just a nebulous title! (We help you reach the people responsible for making the decisions!)
Access to proven industry best practices – find out "what works" for others in your industry
Four-month FREE data updates, keeping your data fresh and current by tracking the constant changes in this industry
So if you need more targeted decision-maker leads, please contact us today at 651-457-8600, Ext. 1.
We have exactly what you NEED to be successful when selling to Corporate Training & HR!