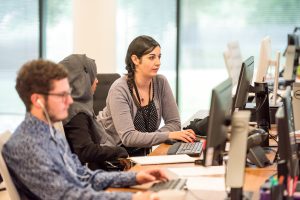 You may have heard of the buzz term "quiet quitting" which seems to be everywhere these days. 
Simply stated, quiet quitting is when an employee decided to NOT go above and beyond at work. It's anti-hustle culture. For some, it's about setting boundaries to combat burnout. While not new, quiet quitting is a form of employee disengagement.
Don't let this go unaddressed because it can hurt your business badly – especially if your marketing and sales people disengage from work.
According to Harvard Business Review, recent research* has shown that "least effective managers have three to four times as many people who fall in the "quiet quitting" category compared to the most effective leaders." And only 20% of their direct reports were willing to put in the extra effort. As a matter of fact, quiet quitting is often a response to the actions of one's boss, such as a lack of trust or respect of the employee.
So…how is quite quitting affecting your sales/marketing plans?? What can you do to prevent it?
Below are 7 steps you can take to prevent quiet quitting:
1.) Give your marketing & salespeople what they need to succeed!
Don't make your valuable employees waste time digging through sub-par, outdated marketing lists.
Give them the high-quality market intelligence data they need to succeed! This will go a long way toward showing them the respect they want/need.  (See below for a related ***BONUS tip when marketing/selling to Corporate Training & HR!)
Having a respectful relationship with your employees is critical now more than ever. According to Zenger Folkman's research*, managers "rated the highest at balancing results with relationships saw 62% of their direct reports willing to give extra effort, while only 3% were quietly quitting."
Investing in high-quality marketing/sales data is one key way to demonstrate respect for your sales and marketing people… Read below for related ***BONUS TIP when marketing/selling to Corporate Training & HR!
2.) Maintain boundaries: No weekend work!  (Yes, this includes weekend work emails)
It is imperative people have time to relax and rejuvenate – especially in today's 24×7 world of information overload. Respect people's time and need for boundaries. Providing space for employees to truly get away from work will leave them refreshed and more likely to give work their best effort when they return. Research has proven that taking breaks and checking out from work results in reduced stress and increased productivity. So set and adhere to a "no weekend work" policy.
3.) Limit/eliminate team building or "fun activities"
Team building activities or after-work "fun activities" may seem like a good idea, but it's really just eating into people's work-life balance. Employees' lives are busier than ever. No need to add one more thing that will only seem like a burden, not the "fun" you intended it to be. This also falls under respecting your employees. Know what they need. Don't add to their list of to-do items with additional obligations that are not directly work-related.
4.) Reduce the number of meetings & shorten the length of existing meetings
Is that meeting really necessary? Can the context of the meeting be handled via email instead? Think twice before scheduling any meetings. It is worth taking people away from their sales/marketing work?
If you MUST have a meeting, follow these guidelines:
5.) Set goals around work quality and/or meeting deadlines – not "time-served" ; )
Rewarding people for working late or on weekends has gone the way of the fax machine. Set a positive workplace culture by rewarding what really matters – work quality, meeting goals on time and within budget, etc. Employees feel more valued when they are rewarded for the results of their efforts – not how many hours they were "online" and available for work that week.
6.) Build rapport. Listen. Give praise – value and appreciate employee's work
This all should go without saying, but employees appreciate being heard and valued. Listening to your employees' ideas, needs, and feedback can go a long way toward building trust — a huge factor to reduce quiet quitting. Employees are more likely to remain engaged when working for a manager they like and trust. As a sales/marketing leader, give praise without reservation and see the positive results. People enjoy doing more for people they like working for.
Be THAT kind of sales and marketing leader — you, your employees, and your company will ALL benefit.
7.) Properly compensate employees
This goes without saying. As the Great Resignation continues amidst staggering inflation, worker compensation had been a is critically important in 2022. Be sure your company is keeping up with or staying ahead of the industry standard. Do your research. Pay your employees competitive wages. After all, underpaid workers are likely to look elsewhere to earn what they're worth (and need to earn) in today's economy.
***BONUS TIP!
Give your marketing and salespeople THE highest quality "list" data available today.
But we're not just talking about your typical "lists" – we're talking about MARKET INTELLIGENCE DATA – accurate contact info for the Corporate Training and HR decision-makers your team needs to succeed! 
Where can you secure the highest quality Corporate Training & HR leads?
We are Mentor Tech Group and this is ALL we do. We're so confident in the quality of our data that we guarantee it! Who else does that?
MTG's marketing intelligence data is exactly what you need. Give your teams the RIGHT contact data they need to succeed. 
Contact us today to request a custom database quote. Segment by:
 You've heard the hype. Isn't it time you tried out a Mentor Tech Group database for your marketing & sales team? It will go a long way toward building the RESPECT they so badly need!
Call us today to learn more: (651) 457-8600, Ext. 1
* ZengerFolkman.com, "Quiet Quitting is About Bad Bosses, Not Bad Employees"; September 6, 2022