Companies are spending more on diversity, equity, and inclusion (DE&I) than ever before as they seek to outcompete in the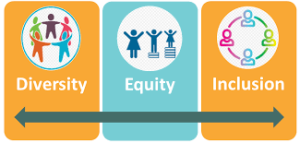 marketplace. 
A recent survey* of 320 leaders found that:
"DE&I spending is strongly correlated with company size as measured by revenues and number of employees…Companies with $10 billion or more in sales plan to spend 23.2% more in 2022, compared to 9.4% more for companies with $100-$499 million in sales and 6.3% more for companies with less than $10 million in sales."
Many companies have been hard at work developing training and HR programs to incorporate companies' unique values, cultures, and employee needs. It is important to think about what matters to the audience of DE&I leaders. 
DE&I topics within organizations may include the need for products and services that address: 
Diversity and inclusion training

Creating a safe space for discussion among peers with various points of view 

Collaboration between individuals and groups on cultural differences

Improving team performance by understanding unconscious biases, and other important DEI topics

Engaging different perspectives on gender differences

Building an inclusive, diverse culture

Bringing more voices to the table to increase innovation and the bottom line
We know that DE&I is an important social and business priority in 2022 and beyond, so we expect to see training companies make significant gains in addressing DE&I leaders with their strategies and training offerings over the coming years.
We're ready to help! Mentor Tech Group is excited to announce the launch of our new DE&I decision maker list. 
We know that many Training and HR service providers have developed offerings for this growing market. This is exactly why we have just released our newest custom-built database with a new type of buyer – so you can market directly to Diversity, Equity, and Inclusion leaders across the US. 
Our unique HAND-BUILT market intelligence database now also contains contact information (email & phone) for the Diversity, Equity & Inclusion decision-makers you want to reach.
Expand the reach of your diversity and inclusion training and hr products and services by marketing directly to the DE&I decision-makers at top US companies! We're here to help when you're ready. 
Contact us today at (651) 457-8600, Ext. 1 or via email at marketing@mentortechgroup.com.
Remember – for more than 20 years, Mentor Tech Group has been (and still IS!) your best resource of Market Intelligence for decision-makers in Corporate Training, Talent Management, and HR. Call today and ask about our guaranteed accuracy and free list updates!
* Source: April 2022 www.cmswire.com