We hear it all over the news these days… The Great Resignation has taken hold and shows no signs of letting up. For B2B marketers, this can prove especially challenging as you try to keep up with the huge amount of change happening to your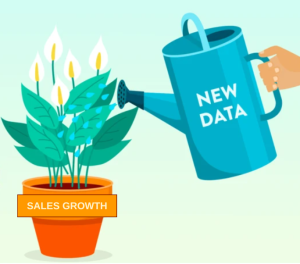 in-house list!
FACT #1: High Turnover in Corporate Training & HR means your in-house list data is constantly changing.
If your database isn't being kept current, your team will be wasting time and energy marketing/selling to outdated contacts.
FACT #2: Adding high-quality NEW DATA to your marketing process TODAY is critical to achieving sales growth TOMORROW…
So what factors should you consider to AVOID "stale data"?
And how can you quickly add new, quality data to your marketing process?
Let's review a few things to help you gauge the depth of the data quality issue…and then explain how you can fix it!
1.) Data quality decays quickly in the Training & HR industries, especially now…
The average 4-month Mentor Tech Group database change rate in Training & HR is a whopping 33+%. This means that we're seeing changes in 1/3 of the database records every 4 months… That's HUGE! (This includes new contacts added, contacts removed, and changes in title, phone, email…) This is the Great Resignation in action within the Training & HR industry…
So, HOW will you keep up with that incredible rate of change and data decay?
2.) Marketing and selling to an outdated list of contacts is a waste of time and money. 
Digging for Leads: Many companies still use archaic ways to find leads in an effort to "save money." Asking your sales reps to dig up leads on their own is a HUGE mistake. The time and expense of having your reps hunt and peck for leads makes no sense, especially when there is a targeted list source with the exact decision-makers you seek. AND, with an average 33+% change rate in the Training and HR industry every four months, can your team keep up with that kind of change? (With MTG's data, we've done all the hard work for you. We keep up with all that change so you don't have to! Ask about our FREE list updates!)
"Inexpensive" Lists: Some company leaders choose to buy an "inexpensive" (i.e. cheap) marketing list. But they quickly learn that the list was cheap because the data contained in it is JUNK. Why? Because most typical "list" companies simply aggregate data from other B2B list sources, many contacts are not even the decision-makers, and therefore the information is inaccurate or the wrong contact right from the start! Using such poor-quality lists is another huge waste of time and money for your sales and marketing teams. Don't fall into this trap!
3.) Buyers vs "People in the Space"
Oftentimes, the contacts you get in a list purchase may not even be decision-makers at all! They may be "people in the space," but NOT the people actually making decisions to BUY your solution. So stop chasing leads that will never buy from you.
Instead, be sure your list contains BUYERS or INFLUENCERS. (Watch this one-minute video to learn more!) With Mentor Tech Group, you know that the people in our database are making or influencing decisions. We know this because we personally speak with each contact in our database to identify their actual job responsibilities – not just their title! We call these Job Codes.
We know it is especially difficult to locate decision-maker leads right now. With many trade shows canceled, you may find yourself searching for a high-quality list of decision-makers. Let us remind you that working with a company specialized in the L&D space is key. This is why MTG is the only lead gen source built FOR Training & HR vendors BY Training & HR experts!
The Mentor Tech Group database is a highly fluid, meticulously-maintained list of more than 40,000 Training & HR decision-maker contacts. You simply won't find this market intelligence data anywhere else! Our database is comprised of the actual Training & HR decision-makers you need – these are the ACTUAL buyers making purchasing decisions for your product or solution. So don't settle for less! Contact MTG today.
With access to Mentor Tech Group's data, you can rest assured that you will have THE most accurate, qualified decision-maker data you need for your sales and marketing efforts.
Here are a few summary TIPS to keep you on a path to success:
Don't make your sales and marketing people dig around for their own leads.
Invest in high-quality targeted decision-maker lists ready for your use!
Provide your reps with access to the most accurate database of Training & HR decision-makers TO CALL AND EMAIL TODAY (record data includes phone, email, mailing address, etc.). With more than 40,000 highly accurate decision-maker contacts in Training and HR, and free* 4-month updates, the MTG database is second to none!
The Bottom Line: Never again waste time and money on a stale marketing list.
Contact Mentor Tech Group today to learn more! (*Note: FREE updates included at month-four and month-eight, with minimum purchase. Call for more details.)
We're here to help you find the Training & HR decision-makers you seek– whenever you're ready!
Learn what other companies already know about the kind of results you can achieve when using the MTG market intelligence database… Then contact us today at (651) 457-8600, Ext. 1