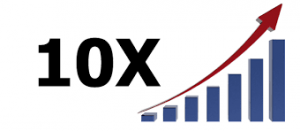 Take a look at these amazing results using a precisely targeted, and highly accurate database on Corporate Training & HR decision-makers.
Smith Johnson Partners*, an executive coaching and leadership company, originally came to Mentor Tech Group because they wanted to grow their company beyond their referral business. Working with their MTG rep, a targeted list was developed based on their unique product offering, client profile, and which vertical markets they wanted to expand into.
Using Mentor Tech Group's hand-built and highly accurate market intelligence, they were able to supersede their goals and reported the following:
"Once we began our outbound email campaign to the prospects MTG provided, we realized a 10-fold return on our investment in the first 90 days!" said David Smith, Managing Partner.
In addition, they achieved the following in short order using the MTG database:
Contracted with several multi-billion dollar companies

Re-engaged with some existing clients on new opportunities

Generated more than $500,000 in new business in the first year
Smith Johnson Partner's immediate success was remarkable and they continue to use the MTG database year after year. Check out their story here.
We'd love to learn about your current sales process and share some strategies for improvement.
Give us a call today to learn more at (651) 457-8600 x1.
We look forward to hearing from you!