Some people make new year's resolutions. Few people keep them. According to U.S. News, 80% of new year's resolutions fail by mid-February! I'm not surprised… It's hard to create new habits that actually "stick."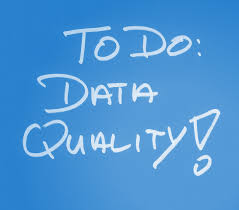 For most organizations, the same holds true for cleaning up their data:
There are great intentions to clean up the data and keep it clean.

But in reality, it's a difficult, ONGOING process. (As in never-ending, continuous, incessant, unrelenting…you get the idea!)
But, if you market and sell to Corporate Training and HR, you're in luck! We can help you revolutionize the process of keeping your data clean – FOREVER.
To truly solve this issue, you must first clearly understand the challenge at hand. People are changing jobs at an unprecedented rate, meaning it is increasingly difficult to keep your data clean. A contact in your database who is confirmed to work at company X today may be gone within a few months. As a matter of fact, according to Sirius Decisions, a whopping 50 million people change jobs annually, resulting in in-house B2B contact records going bad at a rate of nearly 30% per year. Harte Hanks and B2BMarketing.com have put the "decay rate" of B2B data at between 60-70% per year. 
How do you plan to keep up with that rate of change? With those stats, it is obviously a full time job. Without the dedicated resources to handle data cleaning and updating ON A REGULAR BASIS, it is nearly impossible to keep up with all the change. Just deleting a contact because their email bounced is not an effective way to keep up with that change.
– BUT, if you market to corporate training and HR, Mentor Tech Group keeps up with this change so you don't have to! We see a greater than 30% change rate in the Mentor Tech Group database every four months and our team works hard to keep up with all that change… This is our specialty and it is ALL we do.
For more than 20 years, MTG has been the sole provider of a hand-built and maintained database of more than 40,000 corporate training and HR decision-maker contacts. When you invest in a Mentor Tech Group database, you receive a HUGE added value benefit… We provide FREE updates to your database, saving you enormous amounts of time, and keeping your data accurate.
If a contact is gone, we let you know

If a contact's title changed, we let you know.

If a contact's phone number, address, or email changed, we let you know

If there are new contacts that have been added to the segment of the database that matches your purchase parameters, we let you know – free of charge.
Our team makes over 100,000 phone calls a year to keep up with this change, so you don't have to. Think of all the time you could save, no longer having your reps digging to find new prospects. Isn't it time you lose the weight of dead data once and for all?
The Mentor Tech Group database is vastly different from any other "purchased list" available today:
Unlike other "list" companies, 

MTG does not used "data scrapping" methods or buy names from other sources.  Our Marketing Intelligence Database is hand-built and updated regularly via phone interviews.
With your MTG purchase, you receive FREE data updates every four months, keeping the data fresh, reliable and accurate.
Using MTG's market intelligence database, will have a huge POSITIVE impact on your sales process and sales results including:
Reduce time spent on admin work

Increase time available for SELLING

Speed up the sales cycle

Increase sales
Isn't it time you made a new year's resolution you can stick to? Lose the weight of DEAD data! Invest in an MTG database, and you will be finally have clean, accurate data for 12 full months (and a new year's resolution you can finally commit to!).
To insure accuracy, our lists are culled and updated every four months.
We make over 100,000 phone calls per year to maintain list accuracy.
At an average change rate of 30+% every 4 months, this included service is critical to your business success.
Stop wasting your sales people's time and talent. Invest in A HIGH QUALITY, TARGETED DATABASE.
Imagine finally having access to a clean, HIGH quality, accurate list of corporate training and HR decision makers!
Imagine finally being able to keep a new year's resolution?! Lose the weight of DEAD data once and for all. Commit to clean data this year and call MTG today at 651-457-8600, Extension 1.