Any professional sales job will likely require some administrative work. However, we should always seek ways to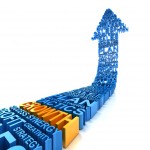 dramatically reduce admin work and increase SELLING time for sales reps!
Administrative "busy work" saps the company of valuable people's time and resources.  Why would you pay a sales rep a professional, premium rate of pay, when they are performing admin work?
That would be crazy, right? But companies do it all the time…
Value-added work for sales professionals is the act of SELLING! This includes any function directly related to developing, nurturing, or closing a sale. All other work is simply a waste of your sales people's valuable time and talent.
SO – how can you maximize the amount of time your reps perform value-added work?
1. REVIEW & STREAMLINE YOUR SALES PROCESS
What does your sales process look like from start to finish?
How does your sales team find leads? (Document and map out the process details in a flow chart.)

Do they hunt, peck, and dig for prospects to build their own target lists?
Do they wade through unqualified tradeshow leads?
Do they perform research on B2B networking sites to build lists of contacts?

What actions do your sales people perform which could be eliminated, handed off, or substantially improved?
The ultimate question is this: How can you free up your sales people's time to do more selling?
By improving the sales process, you will better leverage your sales people's time and talent in a way like never before.
Your sales people are one of your most valuable assets – so why not give them exactly what they need to SUCCEED? What could the results look like?
To greatly increase their "selling time", let's zero in on HOW your sales people find leads.
The following are common, but ineffective, approaches to "list building."  Which do YOU USE?
Purchase of low-cost lists, with outdated contact information, wrong titles, functions, and phone numbers
Hand-build lists one contact at a time by hunting, pecking and researching target companies, top 100 company lists, and social networking sites, searching by title, industry, location, etc.
A "well planned" combination of #1 and #2
Collect unqualified "leads" at a trade show (then make your reps wade through a morass of poor quality contacts and non-decision makers)
Each of these approaches will actually create MORE admin work for your sales reps — and result in LESS selling time! But, we have a recommended solution to address this…
2. INVEST IN A LIST OF HIGH-QUALITY DECISION-MAKER CONTACTS
What if your sales people had accurate contact information for the exact decision makers they seek IN YOUR TARGET MARKET?
What if you could give back sales people's time that had been previously spent on admin work?
What kind of results might you see if your sales reps could FOCUS more time and energy on SELLING?
What message does it send to your sales reps, knowing that they are worthy of using a high-quality marketing database?
What is THE ONE CHANGE that could have a HUGE POSITIVE impact on your sales process and results? Investing in a Mentor Tech Group database!
Increase the percent of time your reps spend SELLING
Shorten your sales cycle
Improve bottom line sales results
Invest in A HIGH QUALITY, TARGETED DATABASE of decision makers in Corporate Training and HR! This one change alone can have a HUGE positive impact on sales results. Stop wasting your sales people's time and talent.
MENTOR TECH GROUP IS THE ONLY DATA RESOURCE YOU NEED
Mentor Tech Group specializes in hand building and maintaining a high quality, accurate marketing intelligence database for companies marketing and selling to corporate training, talent management, e-learning, and HR. An investment in the MTG database includes:
See what our clients are saying. Then, to learn more, or to request a quote, please call (651) 457-8600, Extension 3.
YES, I'd like to learn more about MTG's high-quality database!