A lack of qualified prospects moving through your sales process TODAY can mean trouble for your business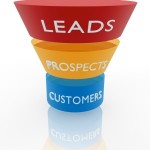 TOMORROW. Building a healthy sales pipeline is critical to attain your revenue goals 3, 6 or 9 months from now…
So what steps should you take to build and sustain a HEALTHY sales pipeline all year long?
Start with ENOUGH Leads
We all know that sales is a numbers game. To develop a healthy sales pipeline, you must start with enough leads to crank through your marketing and sales engine. After all, only a portion will become "qualified leads," and of those, only a fraction will be ready to buy at any given time.
So – it is PARAMOUNT that you add ENOUGH targeted leads into your marketing and sales engine!
Do you honestly have enough leads to achieve ongoing sales success??
Are you using LinkedIn, or "referral based marketing" as your primary source of leads? If so, your sales pipeline probably looks dismal! How many suspects are in your lead pool today? 100? 300? That's not nearly enough to create a healthy pipeline.
If the goal is to catch a lot of fish, you have to STOP POLE FISHING! It's time you cast out a wide net!
To generate enough qualified leads to add to your sales pipeline on a regular basis, you must market regularly to a much larger database of targeted contacts…
(Not sure where to find such a "NET"? Mentor Tech Group has exactly what you need – with contact information for more than 38,000+ decision-makers in Corporate Training, HR, e-Learning, and Talent Management at 5900+ top US companies. For more info, please contact us.)
Qualify Every Lead
Next, assuming you have a marketing engine using email campaigns to generate interest, you must qualify each interested lead. After all, you don't want a bunch of tire kickers clogging up your pipeline.
Generate a list of qualifying questions to ask every interested lead, and determine if there is a real business opportunity there or not. Assign resulting lead quality A, B, or C to each lead.
Here are a few recommended QUALIFYING QUESTIONS:
What are your responsibilities?
What is the decision making PROCESS?
Do you have the means and authority to invest money?
Ask the following question EARLY: Is there anyone else involved in making the final decision to release funds for this purpose? (Tip: Don't waste time selling to people who are not true economic buyers, or you will end up with lots of "stalled" opportunities in the sales pipeline because your contact cannot actually authorize the purchase. Don't make this mistake!)
Do they have a realistic need you can fill? Ask:
What are your major challenges in this area? What keeps you up at night?
Have you tried to solve these issues?  If so, how?
How soon do you want to find a solution?
Use open-ended probing questions to determine the extent of their needs. Are their needs beyond the scope of your offering? If so, refer them to a partner or other resource. Do NOT try to assist in areas outside of your core value. Doing so will only spell trouble for your business down the line, sucking up valuable time and energy to meet protracted client needs. Stay focused.
Are they an appropriate lead for the value and price point of your offering? Ask:
What solutions would you consider?
What is the budget to address the situation?
Be careful of time wasters here. If it appears there is little or no budget for your solution, put the lead into the 'C' bucket and move onto your higher priority prospects.
Know when to walk away.
Using Lead Quality for Targeted Marketing
Use the resulting lead quality data to develop more targeted marketing campaigns to boost results. For example, 'A' leads may receive more frequent or targeted email campaigns than 'C' leads. 
Nurture Qualified Prospects
Not every qualified prospect will be ready to buy today. Once you have identified "qualified prospects," leverage the use of content-based email marketing to continue to nurture leads and identify interested prospects. Call to follow up with all email respondents within 48-72 hours to strike-while-the-iron's-hot.
If possible, leverage the use of "lead-scoring," available with most third party email marketing solutions. In lead-scoring, click-through leads are auto-assigned points as a result of specified page clicks, allowing you to easily identify "hot" prospects. Be sure to call on all resulting "hot" leads within one business day.
Create a Next Step for EVERY interested lead. What is the best next step based on their need/interest/timing?
Schedule a demo or follow up call to share additional insights
Send a follow up email and add a tickler note to follow up in X time period
Send an industry-related article every 3-4 weeks to stay in touch
You must consistently remain in front of interested, qualified prospects so that when that elusive time of need arises, you'll be there to assist. ALWAYS schedule a next step to continue to move each lead through the sales process.  This is how you will build your sales pipeline over time!
CRM System & Your Sales Pipeline
If you are still tracking opportunities via an Excel spreadsheet, it's time to change. I STRONGLY encourage you to move to an online customer relationship management (CRM) system. These systems were specifically designed to optimize sales results, allowing you to track all lead, prospect, and customer activity. (Examples include: Salesforce, Zoho, and ACT!) Moving to a CRM database will allow you to improve sales efficiencies, track and report on sales opportunities, leads and prospects in a myriad of ways that are just not possible with a spreadsheet.
We could write an entire article on CRM system set up. But, here are a few basics to consider, in case you're not familiar with CRM systems:
Customize the CRM system to track lead quality (A/B/C)
Map your organization's sales process, then customize your CRM system to match your sales stages and percent likelihood to close, such as:

Qualification – 10%
Needs Analysis – 35%
Proposal – 75%
Negotiation – 90%
Closed Won – 100%
Closed Lost – 0%

Create a sales "Opportunity" in the system for EVERY prospect with an identified need or interest
Identify the associated "Opportunity Stage" for every Opportunity, which will be easily tracked and graphically displayed in the resulting sales pipeline chart (…this is the fun part!)
Remember, a healthy sales pipeline will have the following attributes:
A number of opportunities at every stage in the funnel
A continuous flow of NEW opportunities coming into the top of the funnel every month
NEW sales being generated at the bottom of the sales funnel every month!
It is helpful to visually gage how the sales pipeline is shaping up – by rep, by product line, or as a company overall. Here is an example of a basic healthy sales pipeline chart with only three opportunity stages: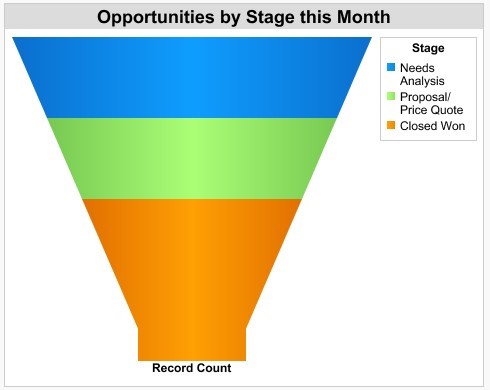 Notice that this sales funnel appears to have opportunities at every stage – one sign of a healthy sales pipeline. However, for this pipeline to be considered truly healthy, there must also be a number of opportunities at every stage, AND those opportunities must be moving THROUGH the pipeline stages.
If opportunities are getting stuck in certain stages, the pipeline will be weakened considerably. Therefore, it's important to identify stalled or stuck opportunities ASAP, and find ways to move them forward… 
Identify & Move Stuck Opportunities
Remember, the ultimate goal in sales is to CLOSE DEALS. Circle tightly around your each sales opportunity to continue to move it down through the funnel to a closed opportunity.
Review and update your sales pipeline DAILY. Identify and resolve any pipeline issues as early as possible. Opportunities stuck in any one stage too long can be a sign of trouble.
Is your pipeline top heavy with no opportunities in the last stages? If so, why?
Is your pipeline bottom heavy? Why? Without enough opportunities entering the top of the funnel, you will have a revenue shortfall down the line.
Remember, a healthy pipeline has a regular flow of leads through all parts of the sales funnel, to ultimately create a steady revenue flow for the company.
So – WHERE DO DEALS GET STUCK?
If using a CRM system, run an opportunity aging report by stage. Dig into the data to discover trends. Provide additional sales training to resolve specific issues. What are the barriers to closing?
Are there common points in the process where deals become lost or stuck? Why?

Identify and resolve the root cause(s) of the "stuck" or "lost" opportunities, to reduce sales cycle time and move opportunities forward.

Is an individual rep having trouble closing deals? Provide additional training as needed based on the following possible root causes:

Is the contact an "influencer" and not a decision-maker?
Did the rep properly probe to uncover the prospect's real needs?
Did the prospect raise new objections at the time of closing?
Should you institute an expiration date on all proposals to create urgency?
Does your proposal inadvertently derail the sale? (Tip: Do NOT introduce any new information in the proposal. This is no time to cause confusion! Simply summarize the prospect's situation or needs, the associated benefits of your offering, and the agreed upon details of the sale.)
Remember: A healthy sales pipeline will have a number of opportunities at every stage, and a continuous flow of NEW opportunities coming into the top of the funnel every month!
By implementing the elements above, you will be well on your way to creating a sustainable, healthy sales pipeline.
But, if you take away only one thing from this article, it should be the critical FIRST STEP:
YOU MUST market to enough targeted decision-makers
on a regular basis to build a healthy sales pipeline.
Stop wasting time pole fishing! Isn't it time you got serious about lead generation and pipeline building?
When you're ready to cast a wider net to Corporate Training & HR decision-makers, contact MTG. We have what you need.
Mentor Tech Group is the #1 resource for accessing decision-makers in Corporate Training, e-Learning, HR, and Talent Management. With more than 38,000 CONFIRMED Training & HR decision-maker contacts at 5900+ top US companies, there is no better resource to meet your pipeline growth needs.
For more information, or to request a quote, please CONTACT US TODAY: 651-457-8600, Ext. 3.