Let's face it…your lead generation efforts may be going well, but not every qualified lead is ready to buy when you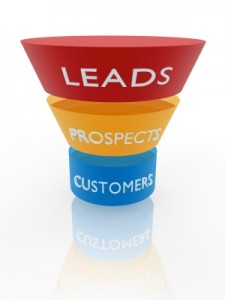 contact them.
Did you know that 80% of sales are made on or after the 5th– 12th contact?
It's true. According to the National Sales Executive Association:
2% of sales are made on the 1st contact
3% of sales are made on the 2nd contact
5% of sales are made on the 3rd contact
10% of sales are made on the 4th contact
80% of sales are made on or after the 5th-12th contact
So, if 80% of sales are made on or after the 5th– 12th contact, how can you remain front-and-center without becoming an irritation? (After all, "The last one in the door" is often the one to make the sale. How can you BE that person?)
You must develop a consistent, value-added lead nurturing campaign.
First, let's review Five Effective Lead Nurturing Techniques:
Targeted Emails

Once a quarter, send an "I saw this and thought of you" email, citing a source of industry information which could prove helpful to your audience.
Research industry trending topics to gather content ideas. (More on content below…)
To make the most impact using this technique, categorize your prospects by industry, area of solution required, size, or other variable.
Target your email campaigns according to common areas of need/interest.

White Papers

Develop an insightful white paper and make it available for download
Provide tips, ideas, and/or education regarding business solutions relative to the prospect's needs.
Call any downloaders within 48 hours to probe about their interest/needs!

Webinars/Podcasts

Invite prospects to attend an educational webinar or podcast.
Offer curriculum-based information of value to assist prospects in resolving a common challenges, or business tips to increase sales or decrease costs.

E-Newsletter or Blog

Develop a content rich newsletter or blog, with topics targeted to your industry.
We recommend you send an e-newsletter once or twice a month.
Automate delivery of this content to send content consistently, every month.
Remember, this is not an advertisement for your services… Rather, this is an opportunity to address industry needs and concerns, demonstrate knowledge, provide tips, "best practices", etc.

Case Studies

Did you know that 69%* of B2B marketers at small and mid-sized companies rated case studies as very effective marketing content, followed by "in-person" events.
Case studies act as an in-depth testimonial, bolstering credibility and elevating your brand within your industry.
Use impactful case studies in your lead nurturing campaigns to demonstrate benefits and results achieved by others using your services.
(*Content Marketing Institute, B2B Content Marketing 2014 Benchmarks, Budgets, & Trends Report, Oct 2013).
Bonus Tip:  Gaining in use by savvy marketers, "lead scoring" allows you to leverage email marketing campaigns to identify where prospects are in the buying cycle, and provide them with meaningful content at each step in the process. Marketing automation software allows you to score each lead based on their response to email campaigns, triggering other workflows. As a result, leads with certain scores may receive a special email promo, an event invitation, or a sales rep may be immediately notified of a "hot lead" requiring phone follow up. Research "lead scoring" to find out if it's right for your business.
How to Develop Value-Added Content
We know that marketing and communicating helpful content to prospects regularly is the key to keeping your company top-of-mind.
You must become a thought-leader, providing value at every touch.
You may not think you have much meaningful thought-leadership content to share, but THINK AGAIN. You likely have many more content resources available than you realize.
For example, take cues from your industry. Help prospects address common industry challenges or issues they face:
What are related industry news feeds buzzing about?
What are industry social media streams discussing?
Are there industry trends emerging? What is the latest news at industry conferences?
Who are your internal subject matter experts? Interview them. Ask them to share insights regarding a common challenge or need in the industry. Create a related series of tips-and-tricks articles.
Using this information, develop a content arsenal around:
Industry trends or insights
Challenges solved
Create a Tips-and-Tricks content series
Best practices in X
Review the content with the following backdrop questions in mind: Is it helpful to my prospects? Is it relevant and timely? Is it engaging – capable of sparking conversation? Is it inspiring?
Note: The goal of nurture campaigns is to influence prospects to think of you first when they're ready to buy. You want to be viewed as an industry thought-leader, a helpful resource. Do not try to sell your services in these lead nurture touches. Use the opportunity to educate, assist, and build trust.
If Content is King, Consistency is Key
Effective lead nurture campaigns allow you to remain front-and-center, ready to assist prospects when they have questions or needs. Generally speaking, it takes multiple impressions before a B2B prospect is ready to buy. As long as you're providing HELPFUL content, the outreach is usually appreciated.
The key is to develop a consistent, content-based marketing strategy — and then stick to it!
Develop a twice-monthly e-newsletter campaign.
Crease a quarterly white paper and promote it via email. Prospects then "sign up" to unlock the white paper, allowing you to provide your sales team with a ready-made list of interested hand-raisers to follow up with.
Develop insightful monthly podcasts.
Blog regularly.
Develop content rich "email drip campaigns" for various segments of your database.
Leverage social media weekly, in conjunction with your other plans. Connect to your key prospects on LinkedIn, Twitter, and Google+ and provide them content updates, direct them to your blog, announce your attendance at an upcoming conference or event. Get into the discussion streams to add value and gain awareness as an industry thought-leader.
Consistency is KEY. Have a plan and stick to it.
(For an example of the effective use of lead nurturing, please CLICK HERE to view an MTG Client Case Study.)
When to Make an Old Fashioned Phone Call
Here's a tip: Don't rely on email marketing alone to nurture your precious leads! That would be a huge mistake.
Nothing replaces a phone call.
Follow up on all white paper downloaders, webinar attendees, and email click-throughs in a timely fashion. Call the person. Converse with them to discover their challenges, needs, interests, hobbies and hot buttons:
Ask open-ended questions to spur dialogue to uncover hidden needs, "I saw you downloaded our white paper on top email marketing techniques. What kind of email marketing campaigns have you tried? How effective were they?" Engage them in conversation.
Determine the prospect's buying timeframe. Establish a schedule of phone call follow up to supplement other lead nurturing tactics, depending on the prospect's needs and timing.
If someone responds to a nurture campaign, call them immediately to assist! The entire purpose of any nurture campaign is to remain in front of prospects, to be there when they have a question, a need, or are ready to buy. So, CALL any hand-raisers demonstrating interest in your nurture campaign ASAP.
Call on click-throughs, downloaders, webinar attendees, and answer any inquiries via phone ASAP. Time is of the essence!
The goal is to be viewed as a helpful resource, not a pest. Someone planning to buy 6-12 months from now would not likely appreciate an email or phone call from you every week. It is a delicate balance, but when you find the right follow up sequence based on your prospect's profile, you will reap great rewards.
The Bottom Line:
Become a thought-leader, a consultant.
Be "politely persistent" as you move your prospect through the buying process.
Be present. Be consistent.
Provide regularly scheduled, value-added content to keep prospects engaged, interested, and mindful of your company!
Then, when prospects are ready to buy, they will think of you FIRST. Happy selling! 
P.S. When you're ready to cast a wider net to reach CONFIRMED decision-makers in Corporate Training & HR, give us a call. We're here to help you supercharge your sales pipeline!
__________________________________________________________________________
Need to cast a wider net to secure decision-maker contacts?
Mentor Tech Group has what you need:
Included with your MTG purchase at NO additional charge:
100% Interview Verified Data – all market intelligence is qualified and screened via telephone interview to determine if a contact merits membership in our database and to guarantee data accuracy

We guarantee that every contact in our database is:

Spearheading projects, or
Creating new initiatives, or
Controlling the budget, or
Making final decisions…

FREE Quarterly Updates** – we keep your data fresh by providing free updates every 4 months (changes, removes, additions, etc.)
Uniquely Segmented by Job Function – so you know the person's actual responsibility in the organization (This is much more insightful than a nebulous job title!)
Lead Generation Consulting – need input on your email marketing or phone campaign? We're here to help make your campaign a success.
UNLIMITED USE for 1 full year:

Use MTG's market intelligence for calling, mailing, and emailing for one full year.
Want to learn more?
Call (651) 457-8600, Ext. 3.
YES! I'd like to access CONFIRMED decision-maker contacts in Corporate Training & HR!
(**With minimum purchase of 1000 contacts.)