Trade shows are challenging. I've done my share, including the one-person stints where you have to take on all the responsibilities by yourself,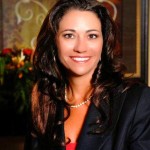 like working long shifts over three days at the "big HR show." (You can substitute "big Training show" and the story will be the same.)  But, what's even more challenging is when the show is over and you go back to your office with a nice big stack of "leads."
As a former Marketing Director for a large training company, I know.  I've been there, done that…sorted through the "hot" ones versus those that just go into the company database.
So…What really happens with all those "leads" after a show??
Typically, a company's marketing team returns from a trade show and dumps a big pile of business cards and scanned contact information on the sales team. The salespeople nod and go on about their business as usual.
About 80 percent of all trade show leads are not even pursued.
Why is that?
It's because tradeshow leads have developed a particularly bad reputation among sales teams as being a waste of time.  As evidence, look no further than the notorious fish bowl or the many companies that hold drawings of some sort to entice attendees to their booth.  Lots of Wii systems or iPods are up for grabs and even some cash prizes.  When I walk the show floor and I'm approached to have my card scanned for the respective company's drawing, I don't want to waste their time, so I always say:
"I am not a prospect for your company."
The person working the booth nearly always gives the standard reply:
"Oh, that's OK.  You don't have to be a prospect to be in the drawing!"
When this happens and they scan my badge, my not-a-prospect information is added to their list of "leads" from the show and passed along to their sales team after the show.  Of course, any subsequent follow-up is a complete waste of good selling time. Consequently, sales people easily become discouraged with all prospects generated from the trade show, even though there may be some gems in there.
Sound familiar?
What happened to quality over quantity?
Also compelling is the fact that most people walking around the floor of your last trade show are not HR or corporate training decision makers. Instead, they are mostly lower level people and vendors that are coming to your booth.  Sure, there are a few gems out there, but the odds are against you.
For years, marketing managers have been deluded into thinking that their objective was simply to grab business cards and names. But focusing on quantity over quality is, in fact, the kiss of death for a tradeshow marketer seeking to increase sales:
Sales people have no desire to waste time following up on a list that they perceive (rightly so) to be dominated by people who are not the decision makers for training or HR.
Look at the valuable marketing dollars you spent to exhibit at your most recent trade show.  Determine what you paid per "lead."  It's simple math:
Investment per contact from the trade show =
Dollar amount spent on exhibiting
Divided by number of contacts
= Investment you made to obtain each contact
Example:  Exhibiting Cost ($10,000) ÷ Number of contacts (500) = Cost per contact ($20)
This investment goes even higher per contact if you weed out all those fish bowl and drawing participants!
Did you pay $20 per "prospect"…or more per tradeshow lead?
Anyone who truly understands quality versus quantity will realize it is critical to find less expensive, more effective ways to obtain confirmed HR or corporate training decision-maker contact information.  You might also be asking yourself, what's the bottom line here?  Is it branding?  Seeing and being seen?  Or does your company go to the show just because they've always done it?
Or – are you prospecting to give your sales team solid leads…to increase sales?
If the overriding goal is to provide your sales team with sales leads, then prospecting to a target audience that consists of 100% confirmed decision makers for corporate training or HR would be much more cost effective.  What you really need is to work with a company that:
Specializes in corporate training, HR and talent management decision makers, and
Builds and maintains accurate contact information for marketing campaigns
We are that company. We specialize in corporate training and HR.
In business since 1999, Mentor Tech Group (MTG) has meticulously-maintained Market Intelligence for the corporate training & HR market to be used for email campaigns, cold calling and/or direct mail campaigns.  We talk to each and every one of our database contacts every four months and update their information in our database — that's over 35,000 contacts, representing 6,000+ US companies.  And that is the key behind the accuracy and quality of Mentor Tech Group's market intelligence database.  Our database of decision-maker information is simply one-of-a kind!
When you work with MTG's Market Intelligence, you are working with reliable contact information for VP/Directors of Training, HR, Recruiting and Talent Management that you can use all year long over and over again.  And the best part?  Every four months we provide you with updated contact information at no additional charge.*
The result?  Your sales team is more productive, your marketing dollar is better spent and bottom line, your company will be enjoy higher sales volume.
Isn't that what you want?
So, what are you waiting for? We're ready to help you find the decision-makers you seek.
To start saving money, call us today at (651) 457-8600, Ext. 3, or click the link below.
YES! I want more information about how to locate confirmed corporate training and HR decision-makers! 
*For lists with a minimum size of 1000 contacts